Ernest Hemingway said: It was strange to go to Spain again. I didn't hope that they will allow me let again to this country which after the homeland I love more than all countries.
Spain. Fiesta and siesta. Don Quixote and Carmen, Antonio Gaudi and Salvador Dalí, Figaro and the Gladiator who was also called Spaniard. I love Spain, too. I love how Spaniards play soccer in Madrid and Barcelona. How Spanish ladies dance flamenco in Seville. How pilgrims go to Santiago de Compostela.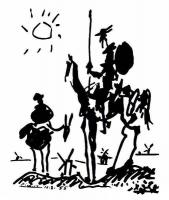 I like Spaniards burning down huge, papier-mache sculptures on streets of Valencia and running with the bulls in Pamplona. I like how Spaniards treat wine and tapas, play the guitar and enjoy life.
And also I love Spain because it, as well as America, loves emigrants. The best-known, Christopher Columbus and Ferdinand Magellan, weren't understood in their homeland.But Spain believed them, accepted them, and they glorified her flag which fluttered on masts of the ships which discovered America and made a round-the-world trip.
In addition to Hemingway and me, 64 million 995 thousand 275 more people love Spain. All of them arrived to the country in 2014 (as tourists staying overnight). And we talk about the people and the country with Carola Seseña, Director of the Tourist Office of Spain in Chicago.
___________________________________________________________________________________________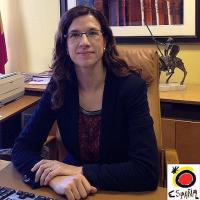 Although the world economy has been tough on many European countries, Carola is optimistic as it gears up for the year 2015. She spoke with Vacation Magazine Radio show Editor-in-Chief Michael Oz about the reasons behind the positive forecast.
"But before anything, please allow me to make a brief comment about the importance of Tourism to the Spanish Economy, - said Carola Seseña. - Tourism represents 12% of the Gross Domestic Product of Spain, which means it is nowadays the key sector of our economy.
Last January, the World Tourism Organization confirmed Spain as the third tourist destination in the world with almost 65 million tourists, only behind France and the USA, in absolute figures."
Despite political tensions, struggling economies and fierce competition, travel sentiment towards destinations in Europe remains positive for 2015. To best support the tourism sector facing uncertainties caused by threats of terrorism and Eurozone economic instability, the European Travel Commission (ETC), the European Tourism Association (ETOA) and the Eurail Group have jointly launched (in Brussels, 18th February 2015) a new research initiative that monitors travel sentiment in key extra-European markets: USA, Brazil, China, Japan and the Russian Federation.
Europe has a strong positioning in respondents' minds: of all the Americans, Brazilians, Chinese, Japanese and Russians, who plan to travel to a long-haul destination in 2015, four out of five plan to visit a destination in Europe: France, Spain, Germany and Italy are confirmed as top of mind destinations
"Vacation Magazine" ("VM"): Carola, you are the Director of Tourist office of Spain (TOS) in Chicago, what are your responsibilities?
Carola Seseña: "The TOS Chicago is one of 32 such offices located around the world; our headquarters are in Spain. I, as the Consul for Tourism Affairs, am in charge of an office which promotes Spain as a leisure tourism destination in the market we serve: a 13-state territory in the Midwest USA. The area we cover includes Ohio, Michigan, Indiana, Illinois, Wisconsin, Iowa, Kansas, Nebraska, Missouri, Minnesota, North Dakota, South Dakota, and Oklahoma.
In addition to this geographic jurisdiction, the Tourist Office of Spain in Chicago is also in charge of marketing the business travel "product" (what we in the industry call MICE- meetings, incentives, conventions and exhibitions-) for the entire US market.
VM": What's your travel experience and career in travel industry in general and in TOS in particular?
Carola Seseña: "I have been with the TOS in Chicago since September 2014; prior to coming here, I served in Ministry of Tourism of Spain in our Madrid office. My personal travel experience includes much travel as related to my job, but on a personal level, I do also travel quite a bit with my family – I have two daughters - for summer vacations and other leisure activities. Also I love cooking, reading and cinema."
"VM": Let's talk about statistics. How many flights from US to Spain do you have weekly and how many airlines go to Spain from US? And of course how many Americans came to Spain in 2014?
Carola Seseña: "There are six airlines flying every day from the USA to Spain. There are two from Spain, Iberia Airlines and Air Europa; and four from the USA, United Airlines, which normally operates with Iberia, Delta Airlines, Continental Airlines and American Airlines. Regarding the flights, there are many nonstop flights from the US to Spain from gateways such as NY, Boston, Chicago, Los Angeles, Washington DC, Atlanta and Miami day. Please see our diagram.
According to FRONTUR statistics, Spain received 1,218,617 tourists from the USA. This is up 2% from the previous year. The most popular destinations for Americans are Catalonia, Madrid and Andalucía.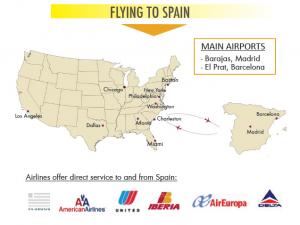 According to the WTO, we are the 3rd most visited country in the world; a total of 64, 995, 275 tourists visited Spain in 2014. Our main source markets (tourists come from) are UK: 23,1%, France: 16,3% and Germany: 16%. The United States represent 1,9 % of the outbound tourism to Spain
"VM": What's the TOS bringing to the American market this year?
Carola Seseña: "This is a priority market for Spain tourism. USA tourists have a high rate of spending average while in Spain, making them one of the most "profitable" markets. Tourists from the USA spend an average of 2,338 euros per person, and average stay is 13 nights. Reason for the trip: 86,5% leisure and 6,6% business.
Also, Spain as a country ranks 3rd worldwide MICE destinations; in city rankings, for instance, Madrid is #2 and Barcelona is the #4 city in the world in terms of the number of international meetings held. And our tourists are loyal to the destination: 63% of tourists who have come to Spain repeat the experience up to 4 times".
"VM": What's the key to a successful relationship between TOS and media, tour operators and travel agents?
Carola Seseña: "Accessibility and information. We are always able to be reached, always at your disposal, and always glad to show you our product directly: which is the best way for you, the media, to become our ambassadors, too!
Fam trips, press trips, workshops, Webinars, virtual trade shows, Spain 360 Expert e-learning platform, a strong social media presence, and the Spain Meetings & Events Community at @i-meet.com (i-meet.com/Spain) are just some of the many ways in which we work together with the entire trade sector as well as with the public.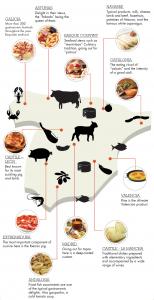 And I would also like to acknowledge the key role those of you who are journalists play in the travel industry. In these ever-evolving modern societies, media are the most important tool for cultural awareness.
The Tourist Office of Spain in Chicago is always willing to offer you the best assistance possible. We have a highly qualified team of professionals in our Media Relations, Trade Relations, Information and Logistics, Marketing, Administration and Finance Departments.
We work together like partners: our team together with the media, tour operators, travel agents, meeting planners, airlines, as well as with cultural organizations, schools and the general public (the final consumer)."
"VM": Gastronomy tours, food and wine tours are famous in the world and in Spain? Can you tell me about the Spanish cuisine in terms of travel?
Carola Seseña: "First of all I would say that all tours to Spain are gastronomy tours. Spanish cuisine is diverse and varies from region to region, a product of the country's varied geography and history.
Due to Spain's wide variety of climates and bordering seas and oceans, the national cuisine utilizes countless varieties of vegetables, fruits, oils, animals and seafood. Many of the world's famous chefs are from Spain: Ferran Adria, Juan Mari Arzak, Andoni Luis Aduriz, the Roca brothers, Toño Pérez, Dani Garcia, Paco Roncero, Ricard Camarena, Koldo Rodero, Quique Dacosta, and many more".
"VM": What differentiates Spain from other countries and what are your strongest selling points?
Carola Seseña: "A lot aspects set us apart: our people, our climate, our sun, our great diversity from one region to the next, the rich blend of classical, historical with the most ultra-modern and state-of-the-art; our food and wine; the friendliness of our people; also cultural travel, urban tourism, the meetings market. And, of course, our travel infrastructure, we have 16,000 hotels all over Spain.
I'd also like to mention one of our most unique and popular tourism products, the Paradores. Paradores de Turismo de España is a chain of Spanish luxury hotels, originally founded by King Alfonso XIII as a means to promote tourism in Spain, with the first opening in Gredos in 1928.
The Spanish word - Parar - means to stop, halt – hence the name "parador", which we could say means "stopping point" (for road travelers, who for example, stop at one Parador for lunch along the way and then another for an overnight stay).
Today we have 94 Paradores located throughout the Spain – the mainland as well as the islands -- on some of the most beautiful natural settings and surrounded by unique historic and artistic ensemble of monuments, or even at the edge of the sea, with spectacular views. Many of the Paradores are medieval castles, former palaces or ancient convents.
And I think there is no better way to enjoy Spain's charm, rich history, culture and wonderful cuisine, than to experience the Paradores of Spain. Also Paradores are very good for American generation, I mean, so called "baby boomers" because the Paradores have Golden Age promotional rates and if you are 55 or more you'll get a 30% discount.
Also, the US market goes to Spain for the cultural riches: museums, cuisine, festivals, architecture, Jewish Sephardic roots, wine tourism, and walking the Camino de Santiago, just to name some of the many examples."
"VM": Talking about The Way, the German thinker Goethe once said that Europe is not complete without a pilgrimage to Compostela?
Carola Seseña: "Yes, it's true. El Camino is also known to symbolize the long spiritual quest through the hardships of traveling on foot. By the way El Camino is very popular in Spain already more than 1000 years.
There are many points of departure, but El Camino always ends in Santiago de Compostela in Galicia, a city that was declared a World Heritage site by UNESCO in 1993. The last stop is always the Cathedral of Santiago, where the remains of the Apostle Saint James - Apostol Santiago - are buried.
The most popular itinerary is "The French Route", which starts in Roncesvalles, France and goes on through the north of Spain. In addition to that there are many other routes, such as "The Northern Route", which starts in Hondarribia, Basque Country, and "The Silver Route" which starts in Seville."
"VM": What is outlook for the year 2015?
Carola Seseña: "The outlook for Americans and other foreign tourists traveling to Spain looks very favorable. Like I said before, tourism is currently the key sector of Spain's economy, representing 12% of our GDP and we must focus all of our efforts on the consumer and the market. We are continuing to promote Spain as a culturalbusiness travel destination; these are the area in which we really stand out, especially in US market.
"VM": Ernest Hemingway called Paris - "A Moveable Feast" - a holiday, which always with you. And I will call all Spain "A Moveable Fiesta" because Spain is a fiesta, which always will be with you.
eWhen-->